Malou in Limerick
Introduction in Ireland
Hi guys!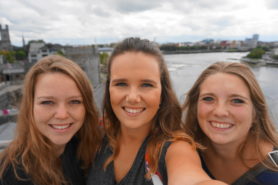 So I've moved to Ireland, which is the craziest and most amazing thing I've ever done. Therefore it is time for an update. I've been in Ireland for exactly a week now and so far it has been AMAZING. I already met a lot of other international students, since we have a welcoming week for internationals here. My roommates are pretty cool, so far I've only met two American girls from Massachusetts and one guy from Ireland. There is another Irish guy but I haven't met him yet. But most of my time I've been spending with a couple guys from my village, two are American and one is Austrian. We've already hit the town twice and there'll probably more nights coming.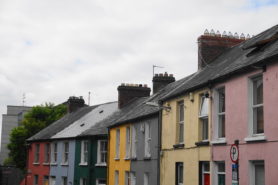 But like I said in my first blogpost before I've arrived on campus, I was in an AirBnB with two friends from Utrecht who are also studying here. It was pretty nice being here early so we could settle in and explore the city. We went shopping on Friday to get some stuff and then sightseeing to King John's Castle and the Milk Market on Saturday. Since we arrived early I knew my way around Limerick pretty well when we moved to Campus. So that was a smart thing to do! Oh by the way the campus is so beautiful, I really enjoy just walking around and looking at the buildings and nature.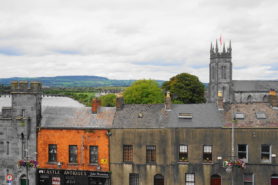 Although I haven't taken as much pictures as I should've done. But more will definitely follow though. As far as introduction week is going, it is pretty hectic and busy. There is a lot of stuff organized for us, which is great. But it also means that it feels like I'm rushing everywhere. Don't get me wrong though, we do have a lot of spare time but it still feels like rushing. So far we mainly had information sessions on how to get around on campus, how to select our subjects and make our timetable and everything.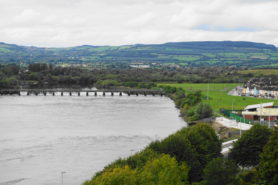 Yesterday we had this amazing showing of Irish music and traditional dance and it was the best thing ever!The group is called Celtic Steps and they do shows up in Killarney, county Kerry, if you're ever around that area definitely go to one of their shows. They're amazing! Tonight there is an international night in the bar on campus. People are saying that it's a lot of fun. So I'm looking forward to that. Tomorrow we are doing some more shopping, and on Sunday there is a trip to Burren National Park and the Cliffs of Moher. So that is going to be amazing, I'm sure bringing my camera for that one!
That's all I got for now, see ya on the next one,
Bye!