Malou in Limerick
Life in Ireland
Hi ye,
So it has been a very long time since I wrote a post on here. And I'm already halfway through the semester and everything is all going by so fast, it is crazy! The semester is in full swing and I am currently working on my assignments which are due in a couple of weeks. The university is closed today due to ex-hurricane Ophelia coming onto the Irish shores.
Everything here is still amazing and I already made so many new friends. Like I've said in my last post I'm still hanging out with the guys I met during the first week. But I'm also very close with my 2 American roommates and there are a few new girls I hang out with a lot as well, one is from Sweden, the other one is her roommate from America and there is a girl from Austria. They all live in the same village as me as well, so that is very handy.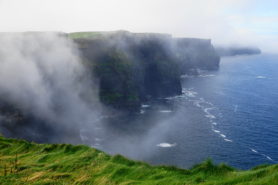 So far I've been lucky enough to go on a lot of trips. In the first week we went to the cliffs of Moher and the Burren, which was really stunning. The week after that I went with the international society to Dingle.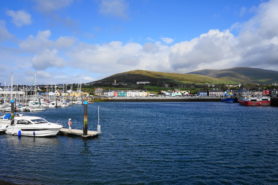 A really lovely little town in the south, where they have a dolphin. But the weather was too bad so we couldn't go out on the sea to see him unfortunately. I also went to Cork with Romée (my friend from Utrecht who I came here with) and that was pretty cool. We visited the campus there and explored the city. Then there was a weekend where I didn't do much, I think, and the next trip was to Dublin with the guys to spend the weekend there.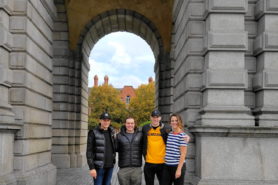 We did all the touristy stuff there and it was great. Dublin has such a different vibe from Cork and Limerick, I don't really know how to explain it. But it looks a bit more like the European mainland cities with its big Parisian like buildings. Last weekend I went to Killarney national park with Logan (my American roommate), her dad and her brother.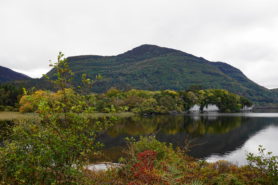 That park is the most beautiful thing ever. I took so many pictures! It was a disaster sorting those out I can tell you! This weekend I stayed in to work on my assignments and next weekend as well. The weekend after that my parents are coming up to visit me. We are spending the weekend in Galway and we are going to explore the area there. And then I have another weekend which hasn't been planned yet. After that my friends from Utrecht are coming up to visit me. Because they had their final exams then and there is the transfer to the new courses that weekend. And I have all my deadlines done so that would be good! I still really want to visit Northern Ireland and the east coast with the Giants causeway etc. So I have to figure out when I want to do that. But that will be fine!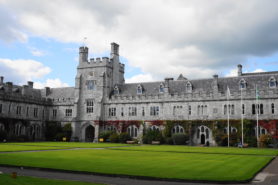 So that's it for all the fun stuff. When it comes to classes everything is a lot easier here! So that is really good for us because that gives us time to do all these fun trips. I have chosen the following 5 courses; psychology of the personality, educational neuroscience, the biological basis of human behaviour, social influence and attitude change, and Irish folklore. Most of the courses are really interesting and I'm really happy with my choices. Only the Irish folklore one is a bit boring… Like I've said the level of learning here is lower than it is at Utrecht University. So a lot of the classes aren't that hard and also the assignments are fairly easy. We do have this one project which we still have to do a lot of work on for the social influence and attitude change class. But that is also a post grad class so it should be harder and more work. Fun fact about that class, one of my lecturers is Eric Igou, he has taught guest lectures at the psychology department of Utrecht University!
I think that is all for now, I am really having the best time of my life here and I'm so happy with my decision to go to Ireland. It is a beautiful country, and the people are so nice! I get sad whenever I think about the fact that I'm already halfway through, I just don't want to leave this place behind. But like they say you make friends for life here and I really feel like that's the case.
Bye for now,
Malou