Geen categorie
Goodbyes
Hia,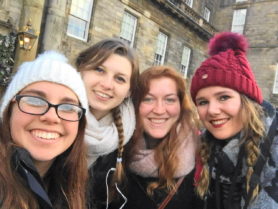 I guess this is it… The most amazing 4 months of my life have flown by sooo quick. I cannot believe that I've been home for a month already. I moved back to Utrecht last week and I am currently studying for my statistics exam which is in a week time. The grades from UL will be available this Thursday and I'm curious to know how I did after 1,5 months of waiting. It has been so strange being back home at my parents' house over Christmas break and now being back in Utrecht. A part of me feels like I've never left, but I know that isn't true. But I have all these amazing new friends now to whom I talk on almost a daily basis still. Which is great because it makes me feel so thankful and grateful for this amazing experience! And like I've said in my previous post, these are friends for life and I know I'm going to see all of them in the (near) future.
But let me look back on my second half of the semester because that's where I left off. So, the last thing I wrote about was my trip to Killarney with my roommate. And like I've said I went to Galway with my parents after that. Galway is such a lovely and warm-hearted city. We had the best time there, the city was great but also the route up there from Limerick was amazing. We drove the Wild Atlantic Coast Way and the views were just amazing. Then we went to the Connemara on Sunday and oh my god, this was the most beautiful place ever! We got very lucky with the weather because the sun was shining so much even though it was mid-October. I made so many amazing pictures and everywhere you looked was even more amazing. This was my favourite place I've visited, so that is saying something!
The weekend after my parents left I didn't do much because I had a lot of deadlines. But I survived so that's good! Then my friends from Utrecht came up to visit me and we had a lot of fun.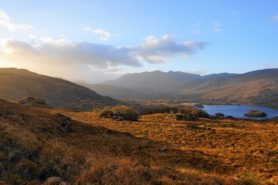 We went on a trip of the Ring of Kerry and we had the most beautiful weather again. The Ring of Kerry is also very beautiful and it was a lot of fun! After that I had another weekend of not doing very much and then I went to Belfast and Northern Ireland with another friend from home who came to visit.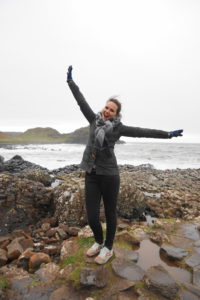 We did the Game of Thrones tour together including the Giants Causeway. The nature there is also amazing, it is so cool how every piece of that island has a completely different nature! And again, we were lucky with the weather and had a wonderful trip. Belfast was also such a cool city! It has a lot of history to it and visiting the Titanic museum was totally worth it.
After Belfast, it was time to study for my finals, I had four exams I needed to study for and felt a little bit stressed when they drew closer. But they all went pretty good, I think. But we'll see on Thursday how my teachers thought about that. After the exams were all done I went to Edinburgh with my roommates. I loved Edinburgh, it is such a beautiful city, there is just culture and history everywhere you look! We had such an amazing time and it was the absolute best way to end an amazing semester! After Edinburgh, I went to Glasgow by myself because I didn't have anything else in Limerick for a couple of days and my other friends still had exams going. Glasgow was very different from Edinburgh, it had some amazingly beautiful buildings like the University building, but also super modern vibes. It was really interesting!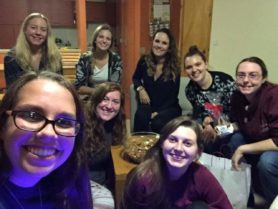 During the semester, we also had our usual international nights at the Campus bar on Friday nights. Those were just the craziest nights, we had so much fun! And you almost know everybody there! Then there was also Halloween, which I had never celebrated before. So, I went to a party on Campus with some Irish girls from my classes. And then in December there was also Sinterklaas and of course I needed to celebrate this with my friends. I brought some pepernoten with me so we had a proper celebration and they all loved our pepernoten so much, that I now have to send them to everyone next year.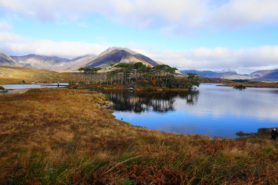 Then when I came back from Scotland it was time to say goodbye to all the wonderful friends I've made over the semester. This was such a sad experience because nobody wanted to leave because we all felt like this was the best experience of our lifetime. We all wrote in each other's notebooks and after a whole day of just hanging out together and crying it was time to go. I had a different flight from the other girls from Utrecht because I flew into Eindhoven and they went to Amsterdam. So, I went to the airport by myself which was very sad and quite difficult to be honest. And then within a couple of hours I was at my parents' house again and that felt very surreal. It felt like I had never left but I was also just sad because of having to leave Limerick behind. I'm still getting sad just sitting here and writing this blogpost. I miss Limerick everyday even though it's also nice to be back in Utrecht and see all my friends from Uni and my society again. But I cannot help missing it and wanting to go back. I guess that feeling will go away with time, but I'm also so happy that I got to go on this amazing life changing adventure and I'm so thankful to myself for daring to go. This experience has brought me so much! For instance, I have couches I can go crash on in Sweden, Germany, Austria, France, the United States and of course Ireland. And with things like Facebook and Snapchat it is so much easier to keep in touch with them! I'm planning on going to Sweden in April when we have a week of from Uni here. So, I hope I'll be able to go, that would be amazing!
To everyone who is going or wondering if they should go, I have one advise, just be yourself! Everybody there is in the same boat, we are all wanting to make new friends because we don't really have anybody. And when you have nobody to fall back on or to hide behind, it is so much easier to just step up to people and talk to them. Because all they want is to get to know as many people as possible! Like I've said before, this has been the best experience of my life and I have friends from all over the world who are just a plane ticket away! Good luck on your adventures and I hope they are as great as mine was!
Goodbye,
Malou